The Greer Branch renovation is now complete. You will find a more welcoming member experience that includes amenities such as a coffee bar, member productivity area, safe deposit boxes and a coin machine. Greer's new floor plan was designed to give you options, whether you need a simple transaction or you need a more personal and in-depth consultation. Our employees are excited to walk you through the many branch features and to take care of all of your financial needs. We hope you visit the new Greer Branch soon.
Greer's completion marks the third branch renovation of four announced in early 2015. We are now ready to make significant enhancements to the Wade Hampton property. This next phase may be a little more disruptive than other renovation projects. But we ask for your continued patience and we are confident that these improvements will be worth the wait.
By the time you read this newsletter, you may have already noticed the clearing of land adjacent to the existing Wade Hampton Branch parking lot. We recently purchased that land to address several safety concerns our members have had over the years. During the first phase, we will add a separate Express Teller building along with an improved parking lot traffic design. Once complete, this facility will provide fast transactional service for our members with four drive-thru lanes and an ATM lane. We hope to have this building completed before the end of the year.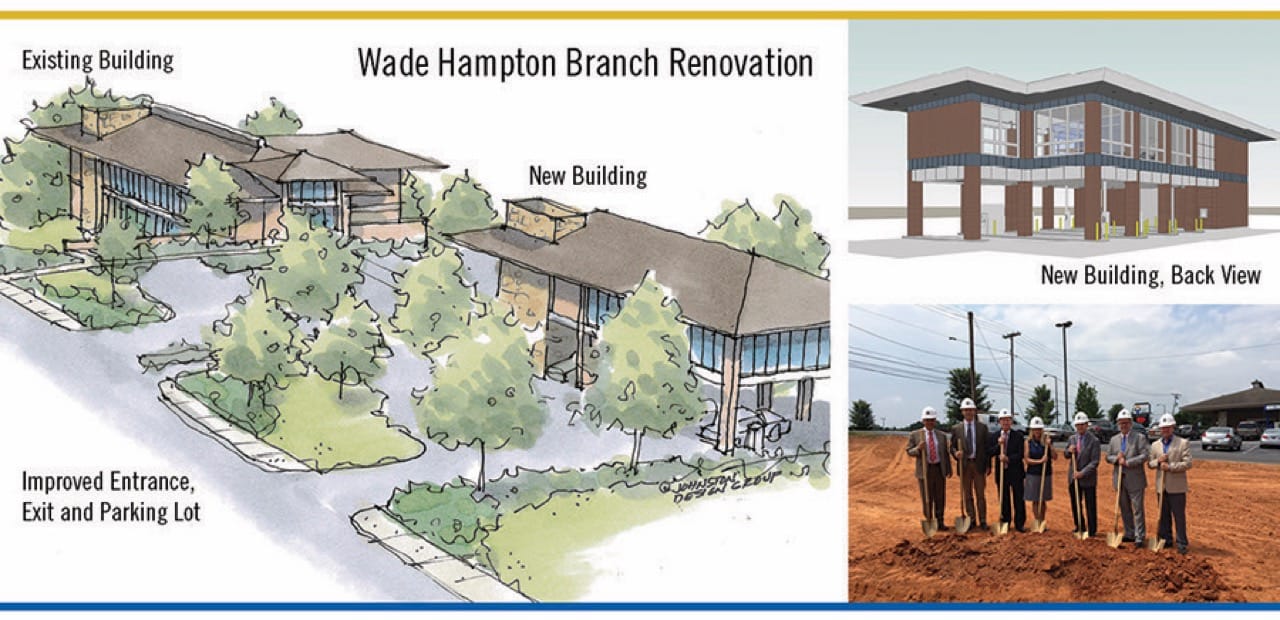 We are also very happy to announce that our members will no longer need to walk across drive-thru and ATM traffic lanes to enter the building. The new and improved design will provide a safe entry way into the Wade Hampton Branch for those members wishing to meet with our employees for their more personal financial needs. The current walking entrance will be moved to where the drive-thru lanes are now eliminating the current entry bridge. This project will also provide many upgrades to the green space of this property. We hope to have this phase of the project done by May of 2017.
As with previous improvements, the Wade Hampton Branch will provide a warmer and more welcoming office that will incorporate modern technology, new safe deposit boxes, a coin machine, and free Wi-Fi.
Thank you again for your continued support of the credit union during this improvement period. We are confident that the credit union's significant investment in our new branch design will provide our members with the service experience that they have come to expect from Greenville Federal Credit Union.
Paul Hughes
President, Greenville Federal Credit Union