Card Lock App
Personal

Loans and Credit

Credit Cards

Card Lock App
Take control of your credit card with our new Card Lock mobile app.
In addition to the fraud protection measures already in place, the credit union is pleased to offer Card Lock for credit cards, an innovative fraud prevention tool that enables you to proactively lock and unlock authorized transactions on your card, right from the palm of your hand. With this app you can also configure push notifications, email and SMS alerts associated with your credit accounts, and define controls around what transactions are allowed or not allowed when making purchases. Now you can determine what alerts you receive and when – from receiving a text message when a purchase over a certain amount is being made, to denying online or international transactions from occurring at the point of sale. It's all in your hands.
---
Card Lock Account Set Up
The first step is to download and install the Card Lock app to your mobile device. Card Lock is available in both Google Play Store and the App Store. Once installed, follow the setup instructions within the app. First you will be asked to create your own Card Lock PIN number. Once you enter your PIN you can add your Greenville Federal Credit Union VISA card information.
1. Card Lock user authentication is based on a five-digit numeric PIN. First time users will be prompted to create a PIN, re-enter it, and then log-in with it before you can access the app.
2. Once inside the app, tap Add an Account to add your Greenville Federal Credit Union credit card account.
3. Card Lock will prompt you to add your 16-digit credit card number and then tap Next.
4. Select Tap Here to read the Terms and Conditions. Then select the radio button to accept the Terms and Conditions and tap Next.
5. Complete the security validation fields and tap Next. All authentication questions must be answered correctly to proceed.
6. Now create an account nickname for the added credit card (10 characters maximum, no special characters) and tap Next.
7. Once successfully completed your card will display in the app. To access the app in the future, you only need to enter your PIN to log in.

Using the App
Once you have installed the app and added your credit union VISA account, you will see the Greenville Federal Credit Union logo at the top of the Card Lock Menu.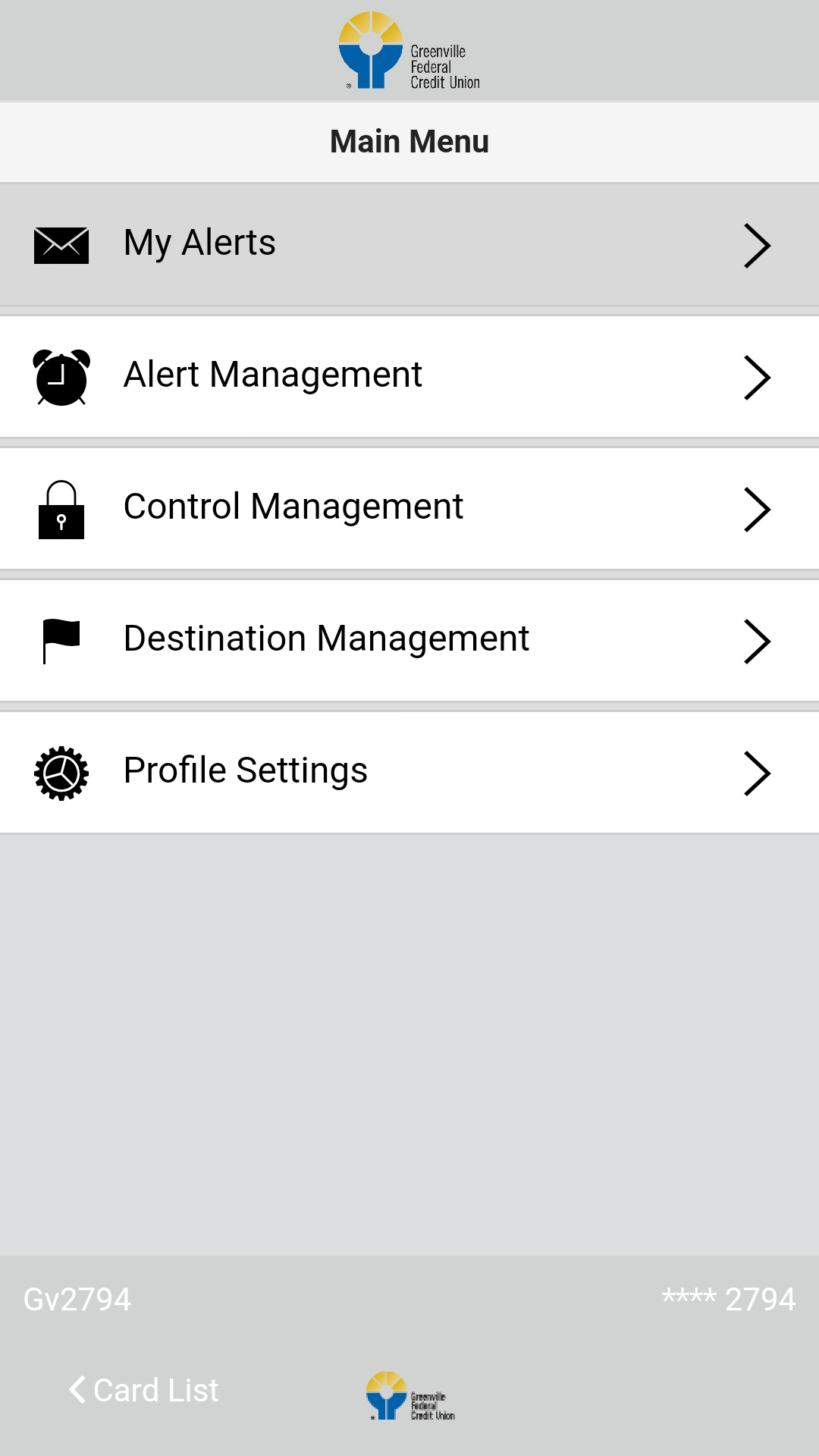 The Main Menu screen allows you to verify and modify alerts and controls for you enrolled VISA card account.
• My Alerts - view any triggered alerts on the account that are unread. Push notifications must be enabled from the Destination Management screen for My Alerts to populate. Alert history will remain for 60 days within the app.
• Alert Management - view active alerts set up for the account or to add, edit, or remove alerts.
• Control Management - view active controls set up for the account or to add, edit, or remove controls.
• Destination Management - customize and view what delivery methods are available for alerts, such as email, SMS or in-app; assign default destinations to any enabled future alerts. Note: You won't receive any alerts if you forget this step, regardless if you have push notifications turned on.
• Profile Settings - change the account nickname or access Terms and Conditions.
---
FAQs
Q: Do my alerts and controls in Card Lock change the fraud protection measures already in place.
A: No. Card Lock is an added resource for credit card account holders, but does not change the measures the credit union has in place to protect accounts.
Q: I forgot my PIN for Card Lock
A: The Card Lock app should allow you to reset your PIN from the app itself. If that doesn't work, please try deleting the app and reinstalling it from the app store to create a new PIN. You will have to reauthenticate your cards if you do this. There is no admin tool for the credit union to manually reset a member's PIN.
Q: I deleted Card Lock but I still receive Alerts
A: Deleting Card Lock won't actually disable the alerts you've attached to your account. Please redownload the app, reauthenticate your card, select the previous nickname you gave it, and you should then be able to manually disable the alert from there. Likewise, you can also "Delete Registration" by removing your card from the app. This will eliminate all previously set Alerts and Controls tied to your account.
Q: I've added an account, now what?
A: The first thing you should do after authenticating a card is to add your "destinations" from the Destination Management page. Destinations are the emails or SMS numbers that will be used when an alert is triggered. If you do not set these up, you will still receive any Alerts you activate within the "My Alerts" in-app notifications page.
Q: I can't receive SMS Alerts.
A: When adding a phone number as a destination, Card Lock should then send the you a text which you must then verify by replying back "YES." If you do not verify a phone number, it will not be eligible to receive future Alerts.
Q: I should have received an Alert but I didn't
A: As with any communication app reliant on 3rd party email services and SMS services, occasionally a message may get lost in transit. While this is not a common occurrence, if it does happen check your spam settings or service connection on your phone, as the Alert most likely generated but was not received properly by your email or SMS provider.