Greenville, SC – Greenville Federal Credit Union announced the five, $10,000 recipients of its Thanks and Giving Grants Program (T&GG) on Friday, November 16, 2018. The purpose of T&GG was to identify and provide funding support for community based 501C3 organizations that promote youth, education, community and economic assistance or relief in local areas across Greenville County.
The T&GG presentation took place at the credit union's Wade Hampton Branch location ahead of its 50th Anniversary lunch celebration. The five recipients were Communities In Schools of Greenville, Greenville Literacy Association (GLA), The Homeless Period Project, Junior Achievement of the Upstate, and The Village Project.
"The credit union received its official charter and opened for business on November 22, 1968. In 2018, that date just so happens to be Thanksgiving Day, which is why our Anniversary theme is 'Celebrating 50 Years with Thanks and Giving.' One the credit union's mission has been to give back to the Greenville community by providing affordable financial services to the people we serve. It's the very reason the credit union was founded." said President Paul Hughes. "We are very excited to celebrate our history by making a significant and lasting investment back into the community where we have called home for 50 years."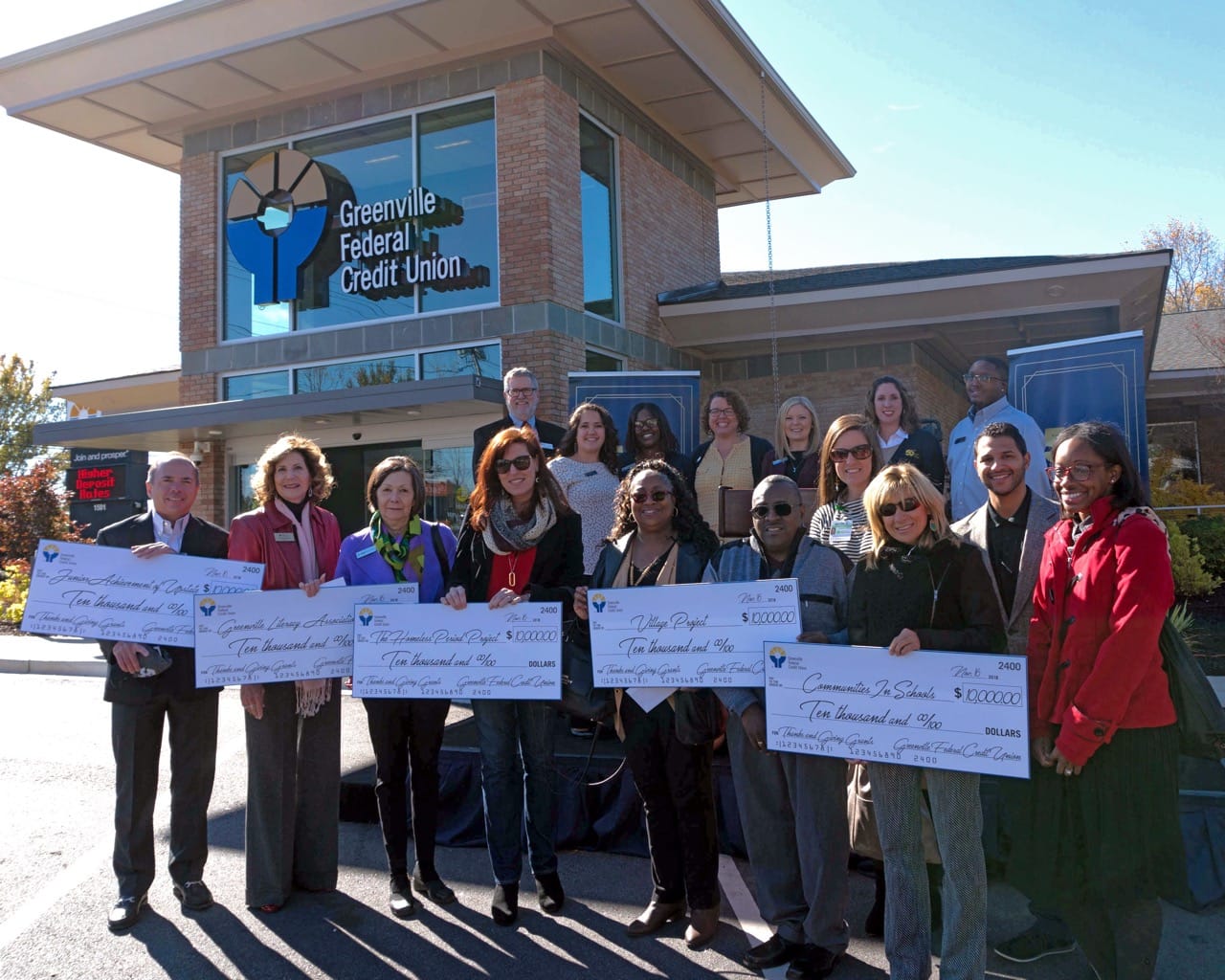 Pictured: Grant recipients with the Thanks and Giving Grant Committee on Nov. 16, 2018 at Greenville Federal Credit Union.
• Communities In Schools of Greenville has always been a resource for schools and at-risk students to support learning; however, through their newest initiative, ThinkMove Chess, Communities In Schools will be able to creatively teach planning and foresight while improving high risk behaviors, attitudes, commitment, behavior, academics and attendance through the game of chess. Students in Communities In Schools programs along the White Horse Road corridor will have access to world unknown to them.
• For 50 years, Greenville Literacy Association (GLA) has provided opportunities for adults of all income and literacy levels to achieve self-sufficiency through education. Greenville Literacy Association's GED Bootcamp will provide quality, low-cost adult education to anyone who wants to learn and in turn create the kind of community where all adults have the skills to earn a living wage and support their families.
• Homeless Period Project's No Girl Left Behind initiative provides period supplies to girls attending 42 middle and high schools in Greenville County, reducing their time away from class and equalizing their opportunity to receive an education. Homeless Period Project will be able to provide "period packs" to the many undocumented, homeless, or "doubled up" female students within our community.
• Junior Achievement of the Upstate has been inspiring and preparing young people for an economically stable future for years. Junior Achievement will be able to deliver their Career Success curriculum to over 500 students at four high schools in Greenville County developing the students' work readiness skills, improving the likelihood they will become employable and allow them to hone in on a career matching their skills, values and interests.
• The Young Entrepreneurs Program through the Village Project supports education and provides economic assistance through financial literacy. The Village Project will teach financial literacy to children in fourth through sixth grade and their parents, using the Junior Achievement curriculum. Because part of the program requires that parents participate with the children in the work they do at home, the parents will also improve financial and money management strategies.
Thanks and Giving Grants details may be found here.
50th Anniversary details may be found here.
About Greenville Federal Credit Union
Greenville Federal Credit Union is a not-for-profit financial alternative to traditional banking with four branch locations in Greenville, Greer, and Mauldin. The more than $230 million credit union was founded by nine teachers from the School District of Greenville County as an educator's credit union in 1968. In 2001, the credit union approved a conversion to a community-based charter to serve anyone who lives, works, worships, or attends school in Greenville County. The National Credit Union Administration (NCUA), an agency of the federal government, insures all accounts up to $250,000. For more information, please visit the credit union's website at www.greenvillefcu.com or call 864-235-6309.