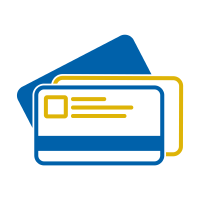 Introducing Card Manager, our new stand-alone app that offers better card controls and tools to manage your debit and credit cards right from your mobile device.
Card Manager brings together all the most popular credit and debit card management features and seamlessly presents them on a single platform. After easy download and installation, members simply register their cards on the app to enjoy many popular features, including:

Lock or unlock cards

View pending and posted transactions
Set notifications by transaction location, merchant type, transaction type (ATM, eCommerce, etc.), spend limits
Submit travel notifications
Make a payment to your credit card, view minimum payment due, payment due date, 90-day payment history

View CURewards points

Card Manager also offers features that can help parents manage their teens' debit card usage. Parents can provide guardrails for spending locations, merchant types, and transaction types, set spending limits on transactions (per transaction and per month) and set alerts to notify them when a transaction occurs.
Card Manager to replace current card management features in Online and Mobile Banking.

On January 12, 2022, the existing "Card management" options inside Online and Mobile Banking will be removed. Instead, members can use the Card Manager app which is available now for installation and setup, and can be accessed from the main menu of our Mobile app. When the existing card management feature is removed from Online and Mobile Banking, your current settings will remain in place until you install and register your cards in the new Card Manager app on your mobile device, or contact the credit union to make any changes. Please send a secure message through Online or Mobile banking or call our Contact Center at 800-336-6309 for more information or assistance with your card management settings.

Learn how to install Card Manager and register your cards here.