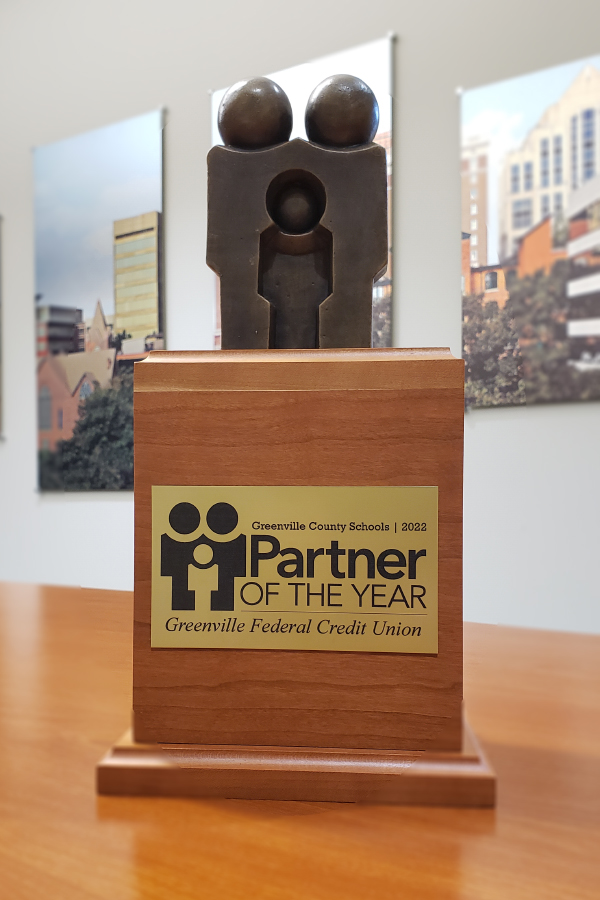 On Thursday, May 19, Greenville County Schools named Greenville Federal Credit Union as their 2021-2022 Partner of the Year during the Salute to Education annual banquet.
The Partner of the Year award was created to recognize and affirm organizations, groups, or individuals who are making a significant positive impact on fulfilling the district's mission. This impact includes volunteer time, financial contributions, in-kind donations, or other collaborative support to students, schools, or the district as a whole.
Founded in 1968 by nine Greenville County school district employees, Greenville Federal Credit Union is dedicated to supporting children, public educators, and Greenville County Schools through a wide variety of initiatives from providing employee volunteers to teach financial literacy lessons in classrooms, to recognizing and highlighting employees and students through Professional Employee Awards, Teacher of the Year, and Salute to Education.
"Supporting educators and children has been at the heart of the credit union's mission throughout its long history. We believe consistent community support and engagement in schools can have a positive and lasting impact on student achievement and staff well-being." said Greenville Federal Credit Union President Paul Hughes.
In addition to individual school and PTA sponsorships throughout the district, the credit union sponsors the Greenville County Schools Teacher of the Year, Emerging Teachers of the Year, Employee Spotlight, The GCS Foundation Golf Tournament, Employees of the Year, and the Salute to Education event. "Each year we look for new ways to recognize and celebrate students, schools, and district employees and are proud to provide continued funding and program assistance for Greenville County Schools."
In 2016, the credit union built a working credit union branch inside Greenville High School to bring financial literacy and education into the school and allow students to gain real-life experience and preparation for both college and future careers. Students running the branch earn course credit and gain hands on experience as they manage and operate a fully functioning branch. All staff and students at the school have convenient, safe access to a financial institution on campus.
Previously named Partners of the Year are United Way of Greenville, The Greenville Drive and Michelin North America.
Learn more about the Greenville Federal Credit Union and its support for Greenville County Schools.