For those who enjoy using apps on your mobile devices we're excited to offer our very own Greenville Federal Credit Union app free for download through App Store for the Apple version, or Google Play for the Android version.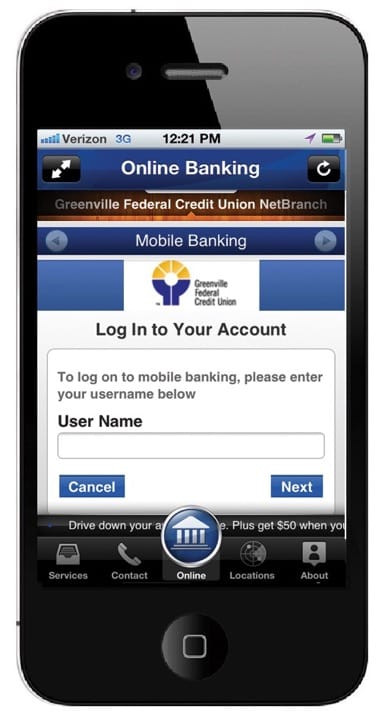 Once downloaded and installed, our mobile banking app allows you to quickly map and locate the nearest branch or ATM location. You can also contact our branches, review products and services, request additional information or log into and manage your accounts.
For Android users, go to Google Play, https://play.google.com/store, search for Greenville Federal Credit Union in the "Search" box, and install the app. Requires Android 2.2 or later.
For iPhone/iPad users, go to the App Store within iTunes, search for Greenville Federal Credit Union in the "Search Store" box, and install the app. This app is compatible with iPhone, iPod touch, and iPad and is optimized for iPhone5. Requires iOS 4.3 or later.
Data Usage Disclaimer
This app is free for download however as with any app, your use of it may result data charges imposed by your mobile network operator or your internet service provider. You are advised to consult your mobile data or internet data plans to identify the charges which may be incurred prior to the installation and operation of the credit union's app. The credit union is not responsible for data usage charges.
In order for the app to operate fully, the device on which it is used may need to be connected to certain wireless and/or communication based technologies. There may be delays, limitations, and other problems inherent in the use of the internet and electronic communication, of which the credit union has no control.