Greenville, SC – Greenville Federal Credit Union and Greenville Senior High School will celebrate the opening of The Branch at Greenville High with a ribbon cutting ceremony and press conference on Tuesday, September 20 at 9:45 AM.
Select community and school leaders will hear remarks from Jason Warren, Greenville Senior High Principal, Dr. Burke Royster, Greenville County Schools Superintendent and Paul Hughes, President of Greenville Federal Credit Union beginning promptly at 10:00 AM. A ribbon cutting and photo opportunity will take place at 10:20 AM followed by brunch and tours of The Branch at Greenville High.
"We are thrilled to celebrate the opening of The Branch at Greenville High with a ribbon cutting ceremony. Through this generous partnership with Greenville Federal Credit Union to establish The Branch at Greenville High, we are able to provide the most authentic training experience available," said Greenville Senior High School Principal, Jason Warren. "With the operation of The Branch during the school day, our entire student body has an opportunity to learn and practice personal financial management skills. This is a perfect example of a wonderful opportunity for students that could not exist without the support of a business partner like Greenville Federal Credit Union. It is truly exciting for everyone to see students operating The Branch in person."
This initiative brings real world financial literacy and education into the school and allows students enrolled in the school's Academy of Law, Finance and Business to gain real-life experience and preparation for both college and future careers. Students will earn course credit and gain hands on experience as they manage and operate a fully functioning Greenville Federal Credit Union branch.
"We are excited to present this unique partnership with Greenville High School and the district to the community and media. It's a very proud moment for everyone involved," said Paul Hughes, credit union President. "We believe that financial literacy and personal financial management are important life skills that will benefit these students well into their futures."
This initiative is a first for Greenville County Schools. Greenville Senior High School and the credit union selected 10 students who work along-side a teacher leading the student-run branch. The students received in-depth training during the summer that prepared them for operating The Branch at Greenville High. Students are not only handling cash and opening new accounts, but also implementing growth strategies through a marketing plan developed by the students.
The student-run branch is not open to the general public. Students, faculty and staff have daily access to the financial services provided by The Branch at Greenville High.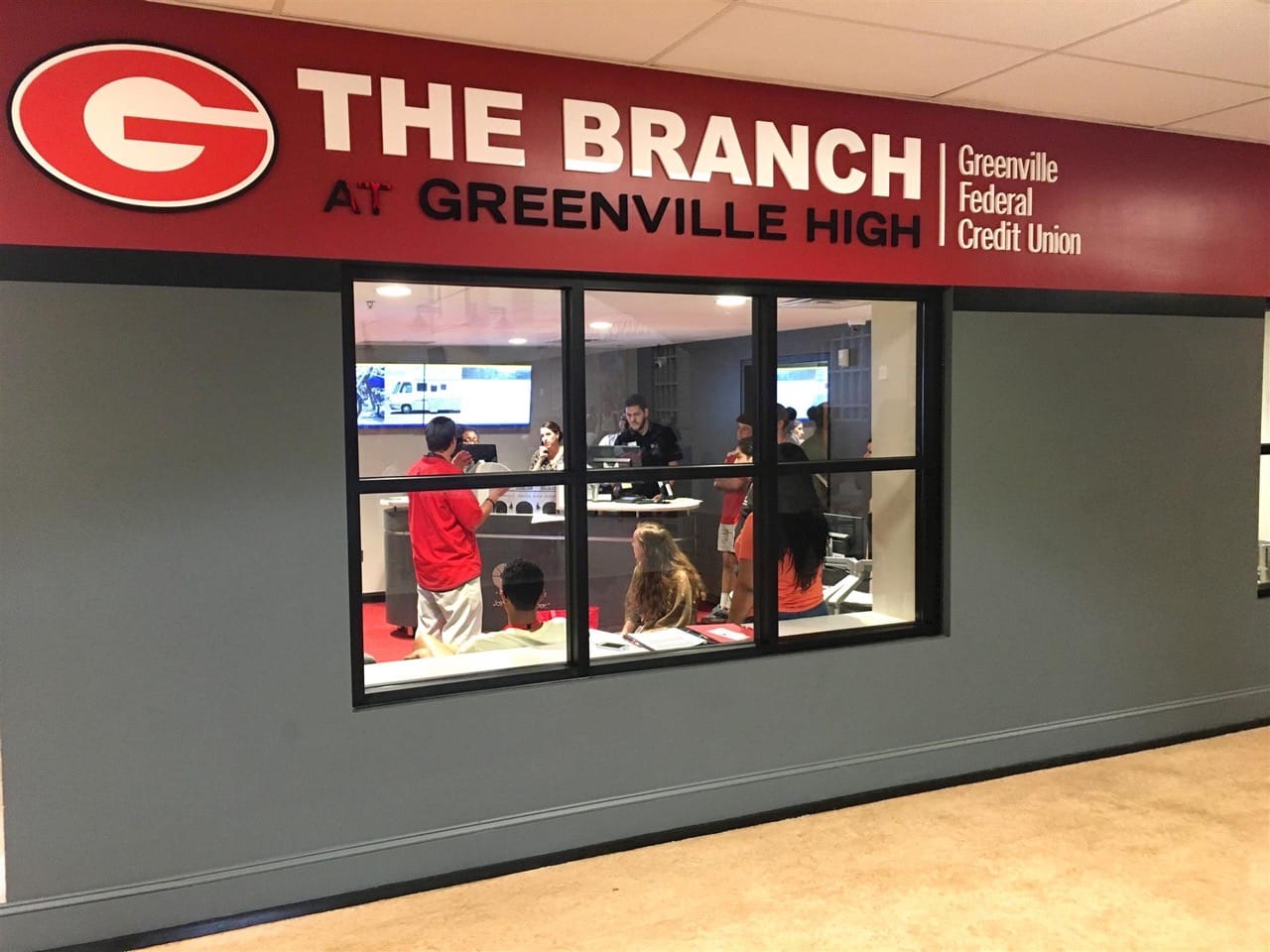 About Greenville Federal Credit Union
Headquartered in Greenville, South Carolina, Greenville Federal Credit Union was founded in 1968 by nine teachers from Greenville County Schools and serves anyone who lives, works or worships in Greenville County. The credit union is a not-for-profit financial alternative to traditional banking with more than 26,000 members receiving financial services at four branch locations in Greenville County, South Carolina and a variety of online channels. The credit union has over $200 million in assets. For more information regarding membership or financial services, visit www.greenvillefcu.com or call 1.800.336.6309.
About Greenville Senior High School
Greenville High School was established in 1888 and has a rich tradition of successful programs and outstanding students who have made significant contributions to the local and world community. The school's mission is to foster excellence by empowering students to become critical thinkers, productive citizens, and lifelong learners.