Supplemental Insurance by The Family Security Plan®
Greenville Federal Credit Union has joined forces with The Family Security Plan to offer members access to supplemental insurance benefits.
The Family Security Plan's products have been protecting thousands of credit union families for over 40 years. The Family Security Plan offers voluntary supplemental insurance benefits that fit your lifestyle and budget.
The Family Security Plan is different from other insurance companies. Getting coverage is quick and easy, all you need to do is answer a few simple questions and no physical exam is required.* The Family Security Plan also offers personalized service and will find a plan that fits your unique needs.
The following suite of products is available to credit union members:
Whole Life Insurance
Secure your family's future with permanent protection that never expires provided premiums are paid as required. Should you need cash for any purpose, you may borrow against the cash value in your life insurance policy.
Disability Income Insurance
In the event that you are unable to work due to a disabling injury or illness this is a convenient, affordable way to ensure you have income.
Critical Illness Insurance
Focus on getting better with a lump sum benefit paid directly to you upon the first diagnosis of a covered critical illness.**
Accident Insurance
Handle the medical and out of pocket costs that add up after a covered accidental injury with this benefit.
---
A personal planner from The Family Security Plan will help you design a plan specifically for you. Call 855-789-4976 today for a complementary phone consultation or schedule a personal visit with a representative at one of the credit union's branches.
Want more information? Visit The Family Security Plan.
*Issuance of a policy and the payment of benefits may depend on the answers provided in the application and the truthfulness thereof.
**Covered critical illnesses are defined in the policy.

---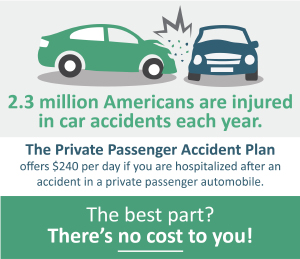 Introducing Private Passenger Accident Plan: A free benefit for members.
All members age 18 - 70 with accounts in good standing have access to complimentary accident coverage under the Private Passenger Accident Plan from The Family Security Plan®. Once activated, members that qualify will receive a $240 per day benefit if they are admitted in-hospital due to an accident in a private passenger automobile.* The first day of a hospital stay must occur within 90 days of the accident causing the injury. Learn more.